THE ONLY INTEGRATED CHARGE DOCK "MADE FOR APPLE WATCH"
The Valet™ Charge Dock for Apple Watch + iPhone is the first dock to include an integrated charger for the Apple Watch. The dock uses the same magnetic technology as the Apple Watch charging cable. Magnets align the connectors automatically, and inductive charging begins instantly.
The dock also features an integrated Lightning connector for iPhone. With both connectors hardwired into the dock, charging your Apple Watch and iPhone simultaneously can be done with a single cable.
The minimal design of the dock mirrors the look and feel of your devices, to provide an elegant dual-charging solution. This compact and high-performing accessory will be an attractive addition to any space.
Made for: iPhone 6 Plus, iPhone 6, iPhone 5s, iPhone 5c, iPhone 5, Apple Watch, Apple Watch Sport, Apple Watch Edition

"MADE FOR APPLE WATCH" & "MADE FOR IPHONE" CERTIFICATION
This electronic accessory has been designed to connect specifically to the Apple Watch and iPhone, and has been certified by the developer to meet Apple performance standards.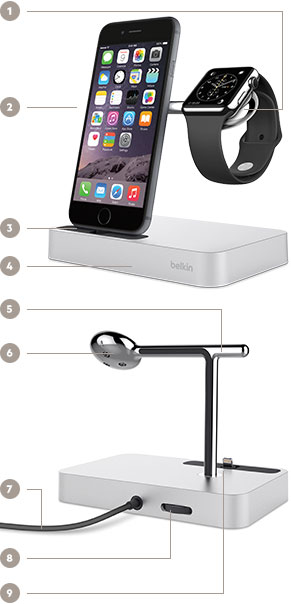 KEY FEATURES
Includes integrated magnetic charger for Apple Watch
Soft contact pad protects iPhone
Soft non-slip, non-scratch pad
Compact base measures only 5.28" x 3.47" (13.4cm x 8.8cm
Solid cast arm with chrome finish
Elevates Apple Watch safely above surface
Charge both your Apple Watch and iPhone with one tethered AC cable
Dial raises or lowers Lightning connector
Adjustable Lightning connector fits most cases
One Year Replacement Warranty if bought Online or from one of our Authorized Retailers.

* Items NOT bought Online from www.gadgitechstore.com or one of our Authorized Retailers are NOT covered under our warranty and may not be Original Products
This item is available at the following Retailers:
- Gadgitechstore.com (Order it Online with Free Delivery in Lebanon)
- Virgin Megastore Lebanon (All Locations)
- Abed Tahan Stores
- iStyle Beirut City Center
- The MacShop ABC Achrafieh
- Talaco Stores (in 6 Branches)
- Khoury Home (All Stores)
- Carrefour Lebanon (All Stores)
- Actyv (Hazmieh & ABC Dbaye)
- Photo Khalaf (Near Bristol Hotel Hamra)
* Please note we cannot guarantee availability in all locations as items may sell out. You can call the Retailer or whatsapp us on 03676330 and we will try to give you the closest location to you with available stock.
Questions & Answers
Have a Question?
Be the first to ask a question about this product.
Ask a Question