LITE AS AIR
The ultimate companion for your iPad, the Ultimate Lite Keyboard Case is our lightest keyboard yet, weighing a mere 370g/13oz but is tough, durable and packed with features. A fully protective case keeps you and your iPad truly mobile, a premium aluminum keyboard with well-spaced keys delivers an enhanced typing experience, and advanced power management features preserve battery life. Multiple viewing angles, including media mode for movies or presentations, make it easy to use anywhere. Despite all that, it still manages to be extremely thin as well as the lightest keyboard we've ever made.
MADE FOR: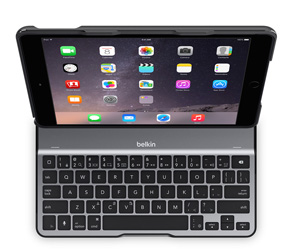 MADE FOR IPAD AIR 2
Designed specifically for iPad Air 2, the Ultimate Lite Keyboard Case is the perfect companion in every way: from the form-fitting protective case and aluminum finish keyboard, right down to its advanced power management features and lightweight, super-thin design.
WELL-SPACED, RESPONSIVE KEYS
Designed for iPad Air 2, the QODE Ultimate Lite Keyboard Case offers comfortable, natural typing reminiscent of working on a laptop's keyboard. The keys are well-spaced and responsive, so you can type faster and more accurately than you can with your tablet's touchscreen alone. The keyboard also includes iPad specific shortcut keys and features a premium aluminum finish.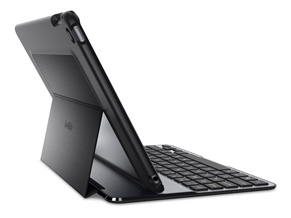 POWER MANAGEMENT
Smart Sensing Technology and Autowake features turn the keyboard on and off when required, and put the iPad to sleep when not in use. This advanced power management means a keyboard battery life of up to 6 months between charges.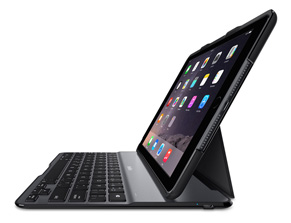 MULTIPLE VIEWING ANGLES
With two viewing angles held by secure magnets ideal for lap or desk use, and a neat foldaway option for the keyboard in media mode, your iPad just got stronger, more mobile and even more functional.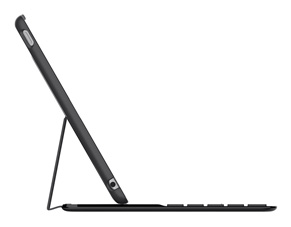 CHARGE WITHOUT REMOVING THE IPAD CASE
Convenient cutouts in the keyboard case give you access to all the tablet's ports and buttons. You can charge your tablet or snap a quick photo with ease--there's no need to remove the iPad Air 2.
The QODE Ultimate Lite Keyboard Case is compatible with iPad Air 2.
At a Glance:
Compatible with iPad Air 2
Thin & lightweight
Aluminum finish on keyboards
Well-spaced keys offer responsive, accurate typing
6 month battery life
Auto on/off feature preserves battery life
Secure magnets hold tablet in a variety of comfortable viewing angles
Keyboard folds into case in media mode for handheld use
Full port access
Package Includes:
QODE Ultimate Lite Keyboard for iPad Air 2
USB to Micro-USB charging cable
One Year Replacement Warranty if bought Online or from one of our Authorized Retailers.

* Items NOT bought Online from www.gadgitechstore.com or one of our Authorized Retailers are NOT covered under our warranty and may not be Original Products
This item is available at the following Retailers:
- Gadgitechstore.com (Order it Online with Free Delivery in Lebanon)
- Virgin Megastore Lebanon (All Locations)
- Abed Tahan Stores
- iStyle Beirut City Center
- The MacShop ABC Achrafieh
- Talaco Stores (in 6 Branches)
- Khoury Home (All Stores)
- Carrefour Lebanon (All Stores)
- Actyv (Hazmieh & ABC Dbaye)
- Photo Khalaf (Near Bristol Hotel Hamra)
* Please note we cannot guarantee availability in all locations as items may sell out. You can call the Retailer or whatsapp us on 03676330 and we will try to give you the closest location to you with available stock.
Questions & Answers
Have a Question?
Be the first to ask a question about this product.
Ask a Question