CONNECTED WITH FASHION
Being prepared for anything should complement your sense of style, not compromise it. THE MIXIT↑ Lightning-to-USB Leather Tassel puts your charger cable exactly where you need it: wherever you are. Hidden in plain sight as a chic accessory on your purse or overnight bag, your cable stays tidy not tangled, and ready to charge, share music and pictures, or simply connect, wherever life takes you.
COMPLETELY PORTABLE
Hiding the colored cable within complementing Leather Tassels protects the connector heads when not in use. It also protects the tassel's secret identity as a functional charging accessory.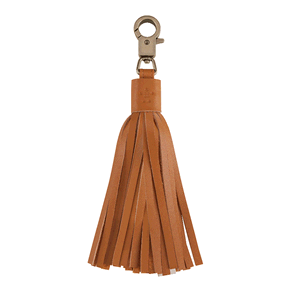 STYLE AND SUBSTANCE
This innovative, on-trend charging accessory has been designed to complement your purse and your sense of style. Premium metallic cables have been tailored into Leather Tassels in four fashion-forward colors. Each features coordinating braided cables, and complementary metal hardware. Clips easily onto your bag or purse for the perfect match.
ORGANIZATION
There's now no reason to leave home without your charger cable. The clever design means an end to messy, tangled cables in your bag or purse.
At a Glance:
2.4A charging cables
Braided cables designed to complement tassel color
Cables concealed by tassel cords
Complementing metal hardware
Total length approx. 7"
Leather
Easily clips on to your bag, purse or luggage
Product length 172mm with 118mm cable
Made for iPhone/ iPad/ iPod
One Year Replacement Warranty if bought Online or from one of our Authorized Retailers.

* Items NOT bought Online from www.gadgitechstore.com or one of our Authorized Retailers are NOT covered under our warranty and may not be Original Products
This item is available at the following Retailers:
- Gadgitechstore.com (Order it Online with Free Delivery in Lebanon)
- Virgin Megastore Lebanon (All Locations)
- Abed Tahan Stores
- iStyle Beirut City Center
- The MacShop ABC Achrafieh
- Talaco Stores (in 6 Branches)
- Khoury Home (All Stores)
- Carrefour Lebanon (All Stores)
- Actyv (Hazmieh & ABC Dbaye)
- Photo Khalaf (Near Bristol Hotel Hamra)
* Please note we cannot guarantee availability in all locations as items may sell out. You can call the Retailer or whatsapp us on 03676330 and we will try to give you the closest location to you with available stock.
Questions & Answers
Have a Question?
Be the first to ask a question about this product.
Ask a Question